11/2/2003
we wont be playing on saturday the 8th. go see censored play. they rule
10/23/2003
I turn 18 tomorrow.
there is a new 9vn journal about our progress:

10/21/2003
9-volt nova is proud to announce that they will be playing with
J A P A N T H E R
and THE SNEEZE. the show is Tuesday Dec. 16th. at 1919 Hemphill in Ft.Worthless.
Czech the show page for more information.
for the time being:
the9voltnova =
awex - guitar vocals synth
ryah - guitar
smelly joe - bass
mikey deeee- drums
10/15/2003
ELECTRIC BOOGALOO!!!!!!
UPDATED SHOWS PAGE!
CD COMING SOON!!!
possible titles:
-how to kill ghosts
-assault and batteries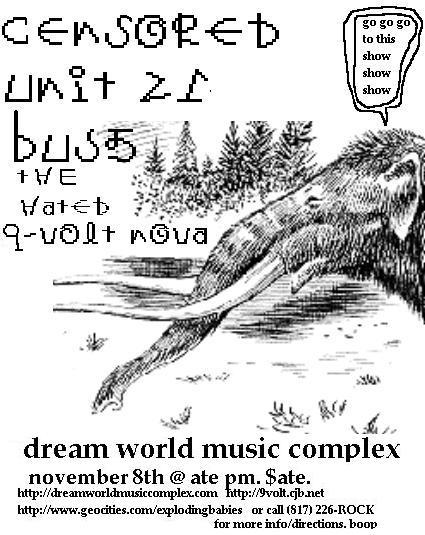 9/17/2003
it is official: THE 9-VOLT NOVA IS ON HOLD. K? Hold. Hold. Calm down. I know we're rock superstars and all, but we'll get back into the groove of things later. I hope so anyways...no promises or anything.


9/9/2003
Scoop: We haven't played together since August 15th (where we blew up Dreamworld). We're gonna start rehearsing again. We are gonna get some one else to play bass so Ryah can play guitar, and then i can do vocals. On our instrumentals I will play synth. By next summer, I want to do a tour. That would be nice, wouldn't it? I think it would. We're trying to get our shit together, I promise guys.
Links
Music
News <---you are here
Shows
Board
9vn journal
The Band_
+Awex
+Ryah